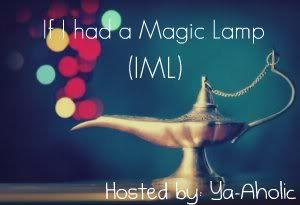 IML hosted by the kick ass Haley over at
Ya-aholic
'cause she's amazing and all things cool, so be sure to check her out! Anyway, like her blog says, this meme is about posting what you wish you had if you had a magic lamp.. it can be any amount of wishes, from books to food and everything in between. I'll most likely do a mix of things I wished for so here's my IML for this week! :)
Wish 1.
I would LOOVVEE to have this as my bedroom and replace a few bits (like maybe one whole wall) with a large bookcase for all my beloved books! I love the color scheme to this as well, the whole calm blue and white look.. *sigh* maybe one day haha.
Wish 2.
I love Carlos Ruiz Zafon - every single one of his books are amazing, especially The Shadow of The Wind which is my favourite book in the whole world, so whenever he has a book out, I don't even read the blurb, I'm straight onto buying it. I have all his titles so far in paperback and they look amazing, but damn Waterstones doesn't have it in paperback yet, only hardback for £12 so I'm waiting till they have the one I want and then my collection shall be complete! :)
But seriously, if you haven't read any of his books yet, you really really should! His works aren't exactly geared towards YA readers, it's a little more mature, and if you love a mixture of romance, horror and mystery told with a delicious writing style, then you will LOVE his books like I do! :)
Wish 3.
Markus Zusak wrote The Book Thief, another one of my favourite books, and his writing style is really similar in some ways to that of Carlos Ruiz Zafon and his books too contain a mixture of all things that makes these mystery novels amazing. I'd love to have a copy of this as well, I loved his first book, The Book Thief even though I was sceptical about the theme and the ideas in the book but I fell in love with it and couldn't out it down. Another author you should all read for sure! :)
& that's a wrap up!
Sorry for like the long list of writing haha but that's what I'd wish for right now if I had a magic lamp, pretty simple wishes (apart from the bedroom I guess) haha.
What would you wish for if you had a magic lamp? :)